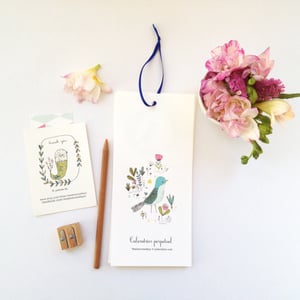 €

14.00
Perpetual Calendar, illustrated calendar for note the birthdays dates
with a ribbon
Colorful, poetic, fox, birds and owls and lovely drawings.
12 different designs, one for each month.
- printed on a 180g white paper,
- size 10 x 21 cm
Sent in an envelope with bubble wrap.
****
Calendrier perpétuel pour noter les anniversaires, les anniversaires de mariage et autres fêtes. Calendrier permanent.
Pour chaque mois, une illustration différente. 12 motifs
- Imprimé sur du beau papier Clairefontaine, 180g,
- format = 10x21 cm.
- un ruban
* Mademoiselleyo © 2019 Yolande Six
My work is protected by copyright.